For group visits
With your bachelorette or bachelorette party, your birthday or divorce party, your company outing and other group events , you are very welcome with us!
For bachelorette and bachelor parties, we recommend three of our city tours from experience: The "Hello, hello, Freiburg" travesty city tour , guided by Betty BBQ herself, the comedy city tour "Betty BBQ presents: Freiburg is fat! – The Comedy City Tour with Kerstin Luhr" and the pub tour led by an experienced pub guide, our pub crawl "Zig, Zack, Onion, off to the Giebel! ".
The coffee gossip tour "coffee trip per pedes" and the red light city tour are not recommended for bachelorette and bachelor parties. The latter is a HISTORICAL CITY TOUR . The Betty BBQ tour guide acts as a narrator and presents historical facts and connections in relation to Freiburg's red light past in an exciting and entertaining way.
For company parties and birthday trips, we are always happy to recommend our historic red light city tour, led by a Betty BBQ guide.
Looking for creative gifts? There we have something!
Great and original products from Betty BBQ can be purchased online in our webshop . Have a look here !
On selected days (mainly on Friday and Saturday afternoons in the summer when the weather is good), selected Betty BBQ products are also sold at the Betty BBQ Meeting Point (Franziskanerstraße 11, 79098 Freiburg) . Likewise, after the city tours with Betty BBQ, there is usually the opportunity to purchase selected Betty BBQ products directly on site.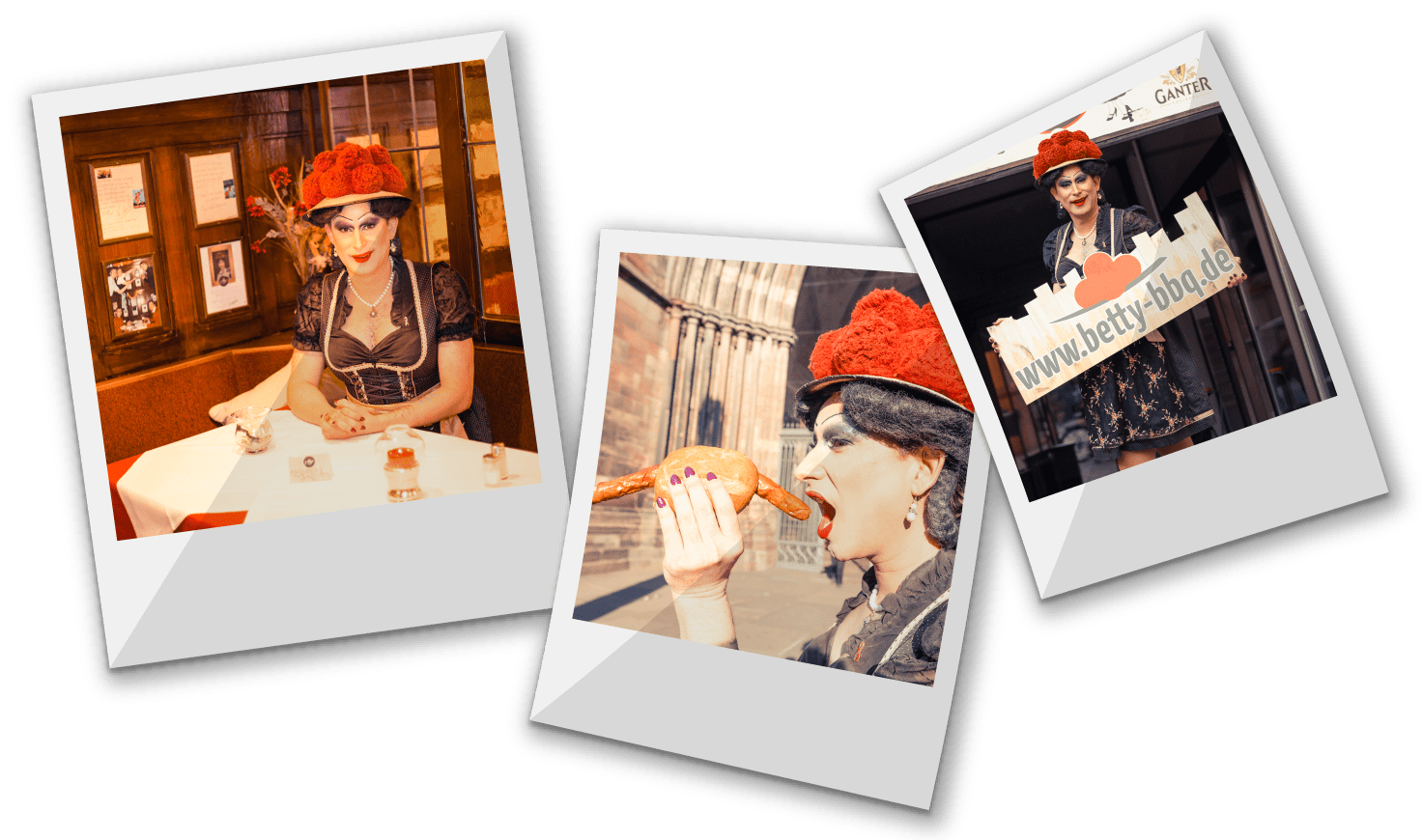 Exclusive/Private Tours
For group events of 8 people or more, such as birthday parties, company outings, JGAs, etc., we recommend an exclusive/private tour based on experience. Here you can choose the start time yourself and you are always among yourselves in the group. The exclusive tours start at 8 p.m. at the latest. If you book an exclusive city/bar tour, we will be happy to provide you with additional services, such as a photographer, stripper and ride in a party stretch limousine.
Inquiries for exclusive/private tours (e.g. for JGAs, company parties, group outings, birthdays and much more) can be made without obligation by contacting the Betty BBQ office (please write us exactly which tour(s) you are interested in, on what day and date, for what occasion and the number of people). We will then be happy to make you an offer tailored to your needs.
Whatever you decide: Unforgettable pictures and an extraordinary experience are included.
And of course you can not only celebrate your bachelorette or bachelorette party with us, but also unforgettable birthday parties, anniversaries or divorce parties. The imagination knows no limits!
We look forward to you.