THE PURPLE SONG
Hairball Remedy cover version
Produced by Betty BBQ
"Because soon – watch out –
will overnight
our sun shines too.
Then we won the same right
we no longer suffer, we have suffered!"
Black Forest Drag Queen Betty BBQ, the band trio Hairball Remedy and "Das Lila Lied": The first homosexual anthem in a new guise!
"Das Lila Lied" is the first homosexual anthem from 1920, which was an amazing success at the time. Today this extraordinary work, originally a march, is hardly noticed, but remarkable for the time. This was the reason for Betty BBQ to commemorate this song with a cover performed by the band Hairball Remedy – with whom Betty has worked many times before – for his 100th birthday. anniversary to give it the attention it deserves.
Anyone who hears the song will quickly realize how unbelievable it is that such a text was possible 100 years ago – between the two destructive world wars and before the inhuman Nazi dictatorship. The fact that the song's message is just as relevant today should be a reminder that our society is perhaps not as modern and liberal in every respect as it likes to be.

For the 100th For the anniversary of this special, courageous song, we have to understand the historical context in order to be able to understand the hope for peace, recognition and harmonious coexistence in all its dimensions at that time.
After the proclamation of the Weimar Republic, a brief period of improvement began for lesbians and gays. It was a constant ups and downs, depending on the political situation, but with the establishment of basic democratic rights and the abolition of censorship there was a surge in gay and lesbian self-esteem, especially in the cities and especially in Berlin. Due to the scope, many new associations, clubs and pubs emerged. In 1919 Magnus Hirschfeld founded his institute for sexology, in the same year Richard Oswald shot Anders als die Other, the first German cinema film to deal with homosexuality, and in 1921 the "First International Conference for Sexual Reform on a Sexological Basis" took place.
Two then still unknown, but later quite successful men wrote the song. The text was written by Kurt Schwabach, who – interrupted by emigration – continued to write many popular hits for Evelyn Künneke, Zarah Leander and Freddy Quinn, among others, until the end of the 1950s. The pseudonym Arno Billing was given as the composer; behind this was Mischa Spoliansky, one of the most successful cabaret and revue composers of the Weimar Republic. Both provided the song with the dedication "To the tireless researcher and friend Mr. Medical Councilor Dr. Dedicated to Magnus Hirschfeld."
Reference for parts of the text: German-language edition of Wikipedia, article "Das lila Lied". https://de.wikipedia.org/wiki/Das_lila_Lied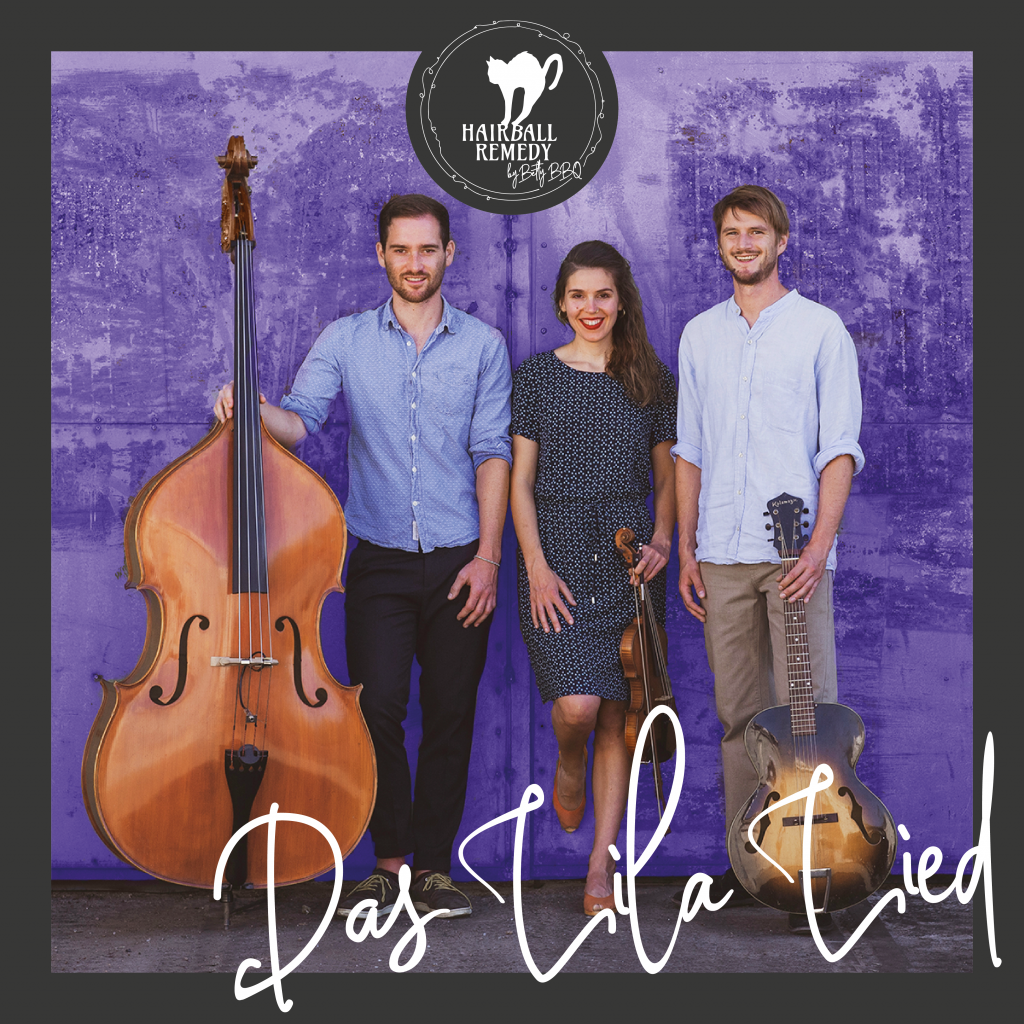 Interested in booking Hairball Remedy ?
We are happy to arrange contact and booking. Feel free to contact us via our contact form or by email to info@betty-bbq.de.
credits:
Title: The Purple Song
Artist: Band "Hairball Remedy"
Bass: Jan Metzger; Guitar: Johannes Lackner; Violin: Laura Schmid Version: Hairball Remedy cover version
Length of track (cover version) 05:09 min
Label Betty BBQ
ISRC (cover version) DELJ82031358
GTIN/EAN/UPC 4064832024982
Release 2020-06-12; Streaming start 2020-06-12
Produced by Betty BBQ @ TONPONY Studios Emmendingen
Published by Betty BBQ Travesty & Entertainment
℗ Betty BBQ Travesty & Entertainment 2020
© Betty BBQ
Cover/Design
℗ Betty BBQ Travesty & Entertainment 2020
© Betty BBQ, Hairball Remedy, Foerb's Design
song
Composer: Arno Billing (pseudonym; real name Mischa Spoliansky: under the pseudonym "Arno Billing" he composed the melody for the first homosexual anthem entitled "Das lila Lied") in 1920.
Lyricist: Kurt Schwabach
Original Publisher: Brull Charles Edition
GEMA work no. (Original) 1575289-001
ISWC (original) T-800.222.134-4